Nikolai Tilkidjiev, Ed., Valentina Milenkova, Kamelia Рetkova and Natasha Mileva, Roma Dropouts, Open Society Institute, Sofia, 2009
Abstract
Without abstract
Downloads
Download data is not yet available.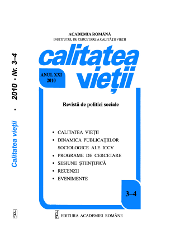 How to Cite
Hristova, S. (2010). Nikolai Tilkidjiev, Ed., Valentina Milenkova, Kamelia Рetkova and Natasha Mileva, Roma Dropouts, Open Society Institute, Sofia, 2009. Calitatea Vieții, 21(3-4), 405–409. Retrieved from https://revistacalitateavietii.ro/journal/article/view/107
Copyright & Licensing
Copyright (c) 2010 Romanian Academy Publishing House
This work is licensed under a Creative Commons Attribution 4.0 International License.