Profilul părinţilor adoptivi din România şi motivaţia adopţiei copiilor greu adoptabili
Keywords:
adoption, adoption of special-needs children, national adoption, adoptive families, Romania
Abstract
In the last two decades, the focus of adoption in Romania changed from international/ inter-country (in the first decade) to national adoptions. While the legislation changed in 2004 to comply with international regulations and to encourage national adoptions, the crude number of national adoptions remained relatively stable in the last five years. The number of children in residential care is still high, most of them being older than ten years and with disabilities or health conditions, which makes them "special-needs children" for adoption. The aim of the study was to identify the main characteristics of the Romanian adoptive families, the types of children preferred for adoption and of those with "special-needs", and what are the factors motivating families to adopt children older than 3 years, with disabilities and of Roma ethnic minority. The research carried out in October–November 2010 used a mixed methods approach: in-depht interviews (N=22) and focus-groups (N=11) with adoptive families and a sample of official data (N=338) from the National Register of Adoption finalised between 2007–2009. The profile of the Romanian adoptive family is aged 38–40 years old, living in a city, with incomes above average, with a medical condition (mainly infertility) and whishing to adopt a Romanian (not Roma) young child (until 3 years old), without disabilities or who lived in an institution. Special-needs children are mainly adopted by their extended family or foster carers. Implications for policy and practice are discussed, and future areas for research are proposed.
Downloads
Download data is not yet available.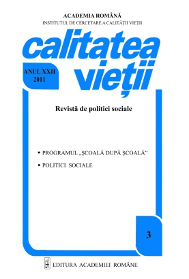 How to Cite
Buzducea, D., & Lazăr, F. (2021). Profilul părinţilor adoptivi din România şi motivaţia adopţiei copiilor greu adoptabili. Calitatea Vieții, 22(3), 313–334. Retrieved from https://revistacalitateavietii.ro/journal/article/view/312
Copyright & Licensing
Copyright (c) 2021 Romanian Academy Publishing House
This work is licensed under a Creative Commons Attribution 4.0 International License.