Spaţiile verzi – o problemă a urbanizării actuale
Keywords:
green areas, benefits of green areas, urban development, green areas policies
Abstract
Diminishing urban green areas increases ecological risks and creates high undesired impact on quality of life and health of the population. This is why, lately, the people struggle in different ways to increase the urban green areas, especially in very crowded cities. Romania runs a great deficit of green areas per capita, comparing with other European countries. In this field, WHO norm is of 50 square meters per capita while EU standard is of 26 square meters per capita. In these conditions, Romania (especially Bucharest, with its 9,67 square meters per capita) runs a great deficit. In this article are presented some solutions for overcoming this deficit.
Downloads
Download data is not yet available.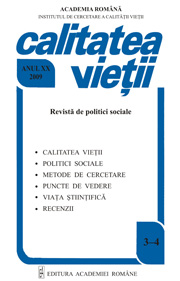 How to Cite
Chiriac, D., Humă, C., & Stanciu, M. (2009). Spaţiile verzi – o problemă a urbanizării actuale. Calitatea Vieții, 20(3-4), 249–270. Retrieved from https://revistacalitateavietii.ro/journal/article/view/437
Copyright & Licensing
Copyright (c) 2022 Romanian Academy Publishing House
This work is licensed under a Creative Commons Attribution 4.0 International License.