Problematica sărăciei în România în perioada 1990−2020
Keywords:
poverty, methods of measuring poverty, poverty threshold, incomes, consumption
Abstract
The entire world, including the countries of the European Union, has been facing economic and financial difficulties for several years, which has somewhat affected the countries where people's lives are compared with the concept under our debate, that of welfare. The scientific approach of this study is to compare the most important and used types of salary income in the purchase of various food, non-food and service products on the market. The paper highlights the importance of the consumption model for the realistic measure of the phenomenon of poverty in a country or in a certain period of time, and of course, the measures/policies that can be taken/applied to reduce poverty, support vulnerable groups, and estimate the required costs, the satisfaction of urgent needs.
Downloads
Download data is not yet available.
References
Barbu, Gheorghe. 1992. Nivelul minim de trai – concept şi instrument operaţional în realitatea românească. Calitatea Vieţii 3−4, 250–262.
Diagnoza calităţii vieţii. 1990−2010. Baza de date. București: ICCV.
Brémond, Janine și Alain Geledan. 1995. Dicţionar economic şi social. Bucureşti, Editura Expert, 274 – 276.
Briciu, Cosmin. 2014. Poverty in Romania: Dimensions of poverty and landmarks of poverty research. Jurnalul practicilor pozitive comunitare 14 (3).
de Castro Francisco, Matteo Salto şi Hugo Steiner. 2013. The gap between public and private wages: new evidence for the EU. Economic Papers 508. European Commission.
Cojocaru, Alexandru și Mikhail Matytsin. 2018. Practica globală Sărăcie și echitate. World Bank.
Deleeck, Herman și Karel van den Bosch. 1992. Poverty and the Adequacy of Social Security in Europe: a Comparative Analysis. Journal of European Social Policy 2, no. 2.
Domnișoru, Ciprian. 2014. The largest drop in income inequality in the European Union during the Great Recession: Romania's puzzling case. Geneva: International Labour Organisation
Goedhart, Theo, Victor Halberstadt, Arie Kapteyn, and Bernard Van Praag. 1977. The poverty line: concept and measurement. Journal of human resources 12, no. 4, 503−520.
Goldberg, Carey. 1995. Choosing the Joys of a Simplified Life. New York Times 21.
Guvernul României. 2015. Strategia naţională privind incluziunea socială şi reducerea sărăciei pentru perioada 2015−2020. București: Ministerul Muncii.
Mărginean, Ioan. 2020. Cercetările de diagnoză a calității vieții în cadrul Institutului de Cercetare a Calității Vieții. Calitatea Vieții 31, nr. 2, 136−156.
Mihăilescu, Adina. 2001. Metodologia de calcul a minimului de trai decent şi de subzistenţă. Calitatea Vieţii" 12, nr. 1−4, 47−70.
Mihăilescu, Adina. 2002. Metodologia de calcul al minimului de trai decent şi de subzistenţă pentru o familie de agricultori. Calitatea Vieţii 12, nr. 1−4, 113−129.
Mihăilescu, Adina. 2004. Minimul de trai şi costurile sociale concepte operaţionale în aprecierea calităţii vieţii. Iași: Polirom.
Mihăilescu, Adina. 2006. Evoluții în sfera minimului de trai al populației din România (calculat după metoda normativă) în perioada 1990−2005. Calitatea Vieţii 17, nr. 1−2, 117−131.
Mihăilescu, Adina. 2010. Dinamica principalelor categorii de venituri şi consumul populaţiei, în ultimii 20 de ani. Inovaţia Socială, nr. 3−4.
Mihăilescu, Adina. 2010. Puterea de cumpărare a diferitelor categorii de venituri − salariul mediu net, salariul minim, alocaţiile pentru primul şi al doilea copil, pensia medie de asigurări sociale de stat şi pensia medie de stat din agricultură − în perioada 1990−2008. Inovaţia Socială, nr. 1−2.
Mihăilescu, Adina. 2014. Minimul de trai instrument în politicile sociale. București: Editura Academiei Române.
Mihăilescu, Adina, Mariana Stanciu, Livia Ștefănescu și Cristina Humă. 2021. Raport Social. Standardul decent de viață pentru famillile cu copii de vârstă școlară. București: ICCV.
Precupețu, Iuliana, Ana Maria Preoteasa și Ionela Vlase. 2015. Beyond Poverty in Romania: An Analysis of Household-Level Factors of Poverty and Precarious Prosperity. Slovak Sociological Review 47, no. 3, 253−271.
Preotesi Mihnea, Cristina Tomescu și Sorin Cace. 2017. Approaches regarding a construction of a methodology for poverty / in work poverty research in Romania. Jurnalul practicilor positive comunitare 17, no. 4.
Stanciu, Mariana. 2004. Consideraţii asupra cercetărilor privind sărăcia extremă. Calitatea Vieţii 3−4.
Stănescu, Iulian și Mihai Dumitru. 2017. Poverty and social exclusion in Romania: A consensual approach to material deprivation. Calitatea vieții 28, no. 1.
Szelenyi, Ivan și Katarzyna Wilk. 2013. Poverty and popular mobilization in postcommunist capitalist regimes. In Postcommunism from within: Social justice, mobilization, and hegemony de Jan Kubik and Amy Linch (eds.). New York: New York University Press.
The Harwood Group. 1995. Yearning for a Balance: Views of Americans on Consumption, Materialism and the Environment. Takoma Park: Merck Family Fund,
Teşliuc, Cornelia, Lucian Pop și Emil Teşliuc. 2001. Sărăcia şi sistemul de protecţie socială. Iași: Polirom.
Van Praag, Bernard. 1968. Individual Welfare Functions and Consumer Behavior. Amsterdam: North Holland Publishing Co.
Zamfir, Cătălin (coord.). 1995. Dimensiuni ale sărăciei. București: Expert.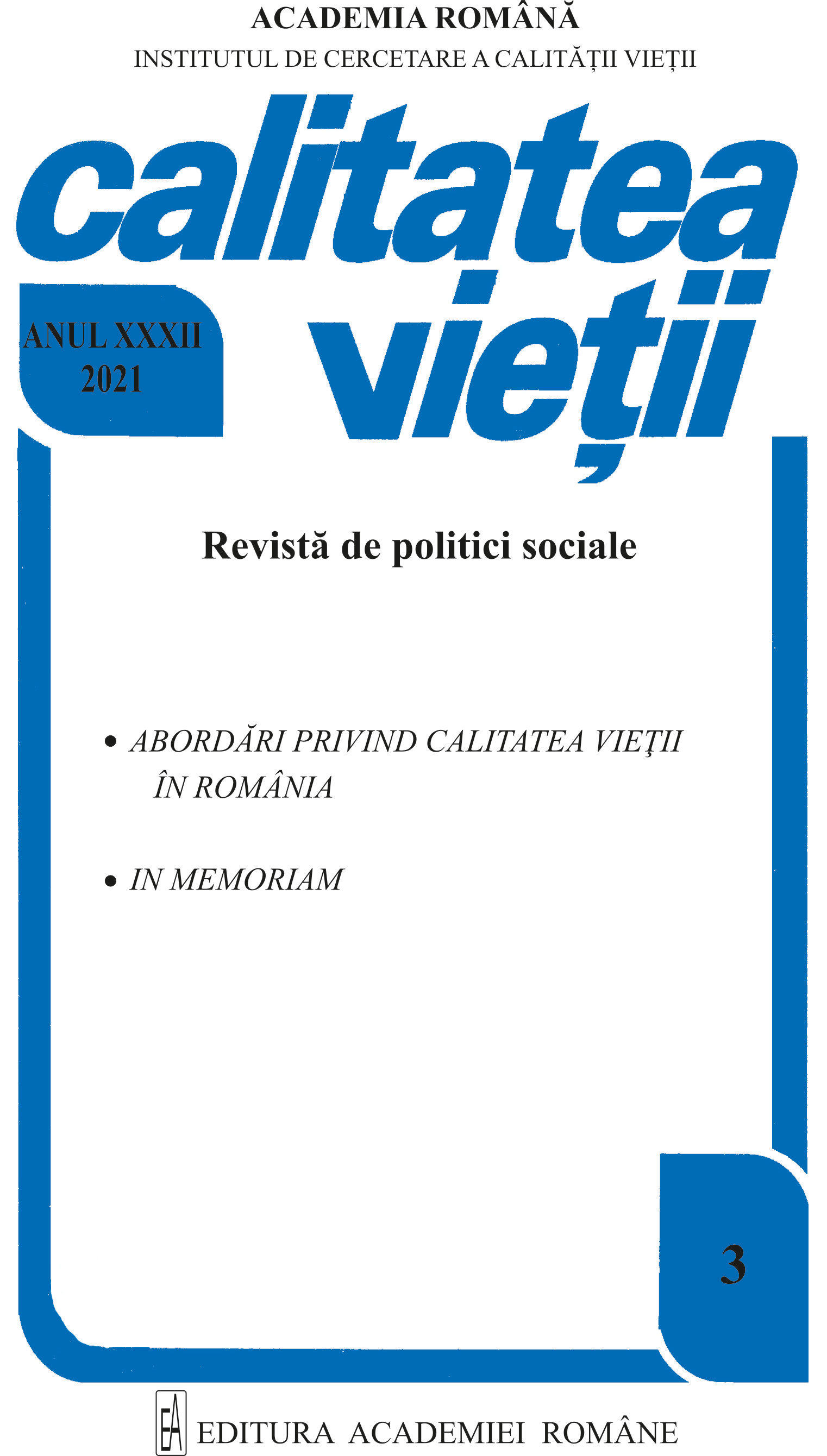 How to Cite
Mihăilescu, A. (2021). Problematica sărăciei în România în perioada 1990−2020. Calitatea Vieții, 32(3), 285–307. https://doi.org/10.46841/RCV.2021.03.06
Copyright & Licensing
Copyright (c) 2021 Romanian Academy Publishing House
This work is licensed under a Creative Commons Attribution 4.0 International License.