Inovaţia în învăţământ
Keywords:
innovation in education, European educational profile, school culture, educational success
Abstract
This article proposes an analysis of the main aspects of the social innovation in education: dimensions, factors that inhibit or factors that release the innovation in education, places and contexts where the innovation manifests itself etc. An important place in the article is dedicated to the evaluation of innovation in the Romanian educational system before and after 1990, to the implications of the reform of the system, to methods of stimulating the innovation in our educational system etc.
Downloads
Download data is not yet available.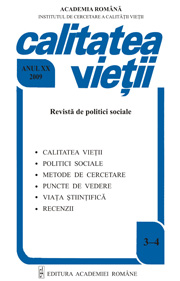 How to Cite
Neagu, G. (2009). Inovaţia în învăţământ. Calitatea Vieții, 20(1-2), 110–121. Retrieved from https://revistacalitateavietii.ro/journal/article/view/461
Copyright & Licensing
Copyright (c) 2009 Romanian Academy Publishing House
This work is licensed under a Creative Commons Attribution 4.0 International License.