Calitatea vieții în România: prezent și perspective
Keywords:
quality of life, social indicators, public policy
Abstract
This is a paper that summarizes research results of quality of life surveys undertaken within the Research Institute for Quality of Life, Romanian Academy, during an extended period: 1990–2006. A number of 54 quality of life indicators have been categorised according to the values they registered: indicators showing increasing values in the reference period, indicators with stagnant values and indicators showing both ups and downs, having mixed trajectories. The paper also emphasises quality of life dimensions that prove to act as support features in people's lives as well as dimensions showing critical points in people's lives. Finally, the paper draws attention to possible solutions needed to improve the quality of life in Romania.
Downloads
Download data is not yet available.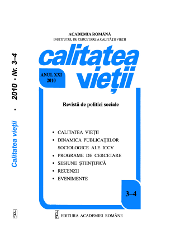 How to Cite
Mărginean, I. (2010). Calitatea vieții în România: prezent și perspective. Calitatea Vieții, 21(3-4), 231–237. Retrieved from https://revistacalitateavietii.ro/journal/article/view/50
Copyright & Licensing
Copyright (c) 2021 Romanian Academy Publishing House
This work is licensed under a Creative Commons Attribution 4.0 International License.