Amprenta ecologică a României – o nouă perspectivă asupra dezvoltării
Keywords:
ecological footprint, resources, sustainable development, social development
Abstract
Beyond certain limits, a greater quantity of economic resources, circulating in the sphere of the demand – production – supply of goods and services, does not guarantee any more increases in the satisfaction with life of the population from any country. Social welfare is not a narrow function of consuming greater resources, but it highly depends, in specific circumstances, on many other factors. These factors are closely linked to the ecological dimension of the consumption of goods and services. Today, all EU countries are running higher or lower ecological deficits. Romania, with its ecological footprint of about 2.4 gha per person, still runs a low ecological deficit, compared with European countries, even if by some dimensions of its present economic behavior Romania tends to increase this deficit. Of course, Romania has to keep under a tighter control the ecological profile of its way of life. But beyond all of these, we see that Romania is the European country with the lowest standard of living and satisfaction with life of its population. Therefore, taking into consideration the global and national economic crises, we have to recognize that in the medium and long term, the main task of our country has to be improving its standard of living. This requires comprehensive economic initiatives and substantial innovations, in order to get a greater return from using natural resources for an improvement in social wellbeing and general quality of life. In the same time, experts in eco-economy and social ecology are called upon to become more deeply involved in redirecting the current consumerist trends in Romania towards a more ecological and eco-social vision of development.
Downloads
Download data is not yet available.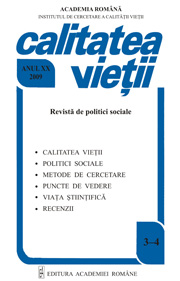 How to Cite
Stanciu, M. (2009). Amprenta ecologică a României – o nouă perspectivă asupra dezvoltării. Calitatea Vieții, 20(3-4), 271–288. Retrieved from https://revistacalitateavietii.ro/journal/article/view/438
Copyright & Licensing
Copyright (c) 2009 Romanian Academy Publishing House
This work is licensed under a Creative Commons Attribution 4.0 International License.