Impactul schimbărilor ecoclimatice recente asupra calității vieții
Keywords:
global climate changes, socioeconomic impact, quality of life
Abstract
The global climatic changes are among the most important challenges confronting mankind at this moment, due to their disastrous effects: increase of atmosphere and ocean temperature, higher risk of floods, drought, lack of drinking water, higher risk of fires, shrinking natural vegetal resources, changes in the ecosystems and degradation of the natural resources, higher risk of diseases. In Europe, the climatic changes affect all the regions of the continent and the effects of these changes are increasingly visible in our country, too. Disastrous phenomena of particular strength have happened over the recent years – severe heat and drought, abundant rainfall and heavy flooding, extreme atmospheric phenomena (twister-type), alteration of the traditional seasons. All these disasters affected strongly the socioeconomic life of the country, producing casualties and material damages both for the population and for the community: economic and social units, elements of infrastructure.
Downloads
Download data is not yet available.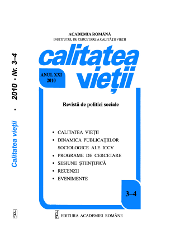 How to Cite
Stanciu, M., Chiriac, D., & Humă, C. . (2010). Impactul schimbărilor ecoclimatice recente asupra calității vieții. Calitatea Vieții, 21(3-4), 238–250. Retrieved from https://revistacalitateavietii.ro/journal/article/view/52
Copyright & Licensing
Copyright (c) 2021 Romanian Academy Publishing House
This work is licensed under a Creative Commons Attribution 4.0 International License.